College of Education seeks NITDA'S Intervention
In continuation of his wide range consultation and partnership request with relevant private and public outfits towards a better College of Education, the indefatigable Provost Prof. Muhammad Yakubu Auna on 20/09/2018 led the institution's Management team to National Information Technology Development Agency (NITDA), Abuja.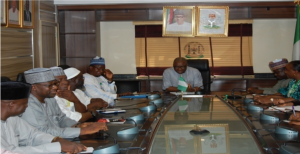 While at the Agency, the College Chief Executive after congratulating the Director General, Dr. Isah Aliyu Pantami on his appointment used the forum to seek the Agency's intervention on campus Wide Wireless Network Connectivity and Visual Library. He then thanked the Agency for the audience accorded his team despite the short notice. The Director General represented by the Deputy Director, Dr. Vincent Ola, commended the Provost for the foresight and promised to relay the College's request which according to him was appropriate giving its significance at this critical time that our institutions needed advancement in technology for growth and development. He added that NITDA develops and regulates Information and Communication Technology (ICT) centres, work with development centres and the academia in areas of Digital Library, capacity building like Master's Programmes outside the country. In addition to encouragement it provided in researches and intervention in critical areas of security amongst others. He then suggested for one or two members from the College to work in collaboration with their special duty department.
On his part, the Agency's procurement officer said the intervention request was apt and promised to appeal to the DG to ensure it was granted as, according to him, the DG is passionate about issues that had to do with academics.
The college delegation to Abuja campus the Provost, Registrar, Bursar, Deputy Provost (Academic and Administration), Librarian, Director for ICT, Information team and a staff of the College FM station.