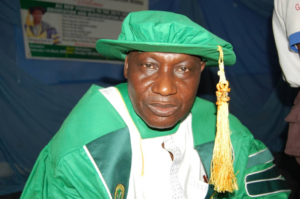 Science Education was among courses offered when the institution was established in 1975. In 1983 when the College was upgraded to the status of College of Education through the Niger State Law of Nigeria, Number 3 of 1983, School of Science was among the Schools created.
Deans of the School of Science since Inception
Philip Majin Yisa
Mohammed Ibrahim Nma 1988 – 1990
Patrick Hansel Nwabuduike 1990 – 1994        1st Elected Dean
Silas A. Sule 1994 – 1998
Malam Usman M.G. Isa 1998 – 2000
Philip Audu 2000 – 2004
Bola Juliet Ogunshola 2004 – 2008
Alhaji Baba Ndana 2008 – 2010
Muhammad Sanusi Abdul 2010 – 2012
Aliyu Mohammed 2012 – 2015
Chado Umar Doko 2015 – 2018
Malam Saba A. Yunusa        2018 – Date
The philosophy of the school of sciences is inspired by the: Desire to produce knowledgeable, highly motivated and professionally effective teachers of science, who will be able to develop in students an appreciation and understanding of sciences processes and principles. The need to produce not only graduates, but well groomed and qualified professional teachers of science for Basic Education levels
The main objective of establishing the School of Sciences is to provide full-time courses in teaching, instruction, research, and training in science education that is relevant to the needs of the State for the purpose of producing qualified Nigeria Certificate in Education (NCE) teachers for Basic level Education, for higher training in Science education, and for research to improve teaching and learning in science education.
Biology
Chemistry
Computer Science
Integrated Science
Mathematics
Physics
Physical & Health Education
Subject Combination
BIOLOGY /CHEMISTRY
BIOLOGY/GEOGRAPHY
BIOLOGY/INTEGRATED SCIENCE
BIOLOGY/MATHEMATICS
BIOLOGY/PHYSICAL HEALTH EDUCATION
BIOLOGY/SPECIAL EDUCATION
INTEGRATED SCIENCE/ PHYSICAL HEALTH EDUCATION
MATHEMATICS/CHEMISTRY
MATHEMATICS/COMPUTER SCIENCE
MATHEMATICS/ECONOMICS
MATHEMATICS/GEOGRAPHY
MATHEMATICS/INTEGRATED SCIENCE
MATHEMATICS/PHYSICAL HEALTH EDUCATION
MATHEMATICS/PHYSICS
MATHEMATICS/SPECIAL EDUCATION
PHYSICAL HEALTH EDUCATION/ SPECIAL EDUCATION
PHYSICS/CHEMISTRY
PHYSICS/COMPUTER SCIENCE
PHYSICS/GEOGRAPHY
PHYSICAL HEALTH EDUCATION (DOUBLE MAJOR) FOR 100 LEVEL