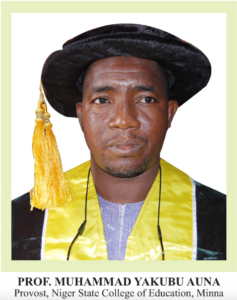 The Niger State College of Education, Minna was established as an Advanced Teachers' College by the defunct North Western State Government on November 1st, 1975 when there was need to establish an additional Advanced Teachers' College in order to meet the soaring teachers needs in the State. In 1983, the College was upgraded to the status of College of Education by the defunct Civilian Government in the Second Republic through the Niger State Edict N.S.L.N Number 3 of 1983. With the College's new status, the nomenclature of the Principal of the College was changed to the Provost and that of the Administrative Secretary to the Registrar. The Edit was amended under Niger State Edict No. 1 of 1988, and further amended by Niger State Law No. 21 of 2011.
The College took off in its temporary site in Bosso – Minna in November, 1975 with a foundation Teaching Staff of nine (9), a total intake of one hundred (100) Students, and sixteen (16) Administrative Staff. Late Dr. Umaru Sanda Ahmadu was the first Principal and Provost of the College. Dr. Gambo T. Yusuf became the second Provost in 1988, Dr. Bukar Emmanuel Naroka Dauda in 1993, Professor Ibrahim Adamu Kolo in 2001, Professor Faruk Rashid Haruna in 2009 and Professor Muhammad Yakubu Auna succeeded him in 2017 to date.
Alhaji Muhammad Giwa was the first Administrative Secretary and Registrar of the College. Alhaji Ismaila Mohammed Lawal succeeded him in August, 1993 followed by Alhaji Yusuf Muhammad Makusidi in 2007, Alhaji Abdullahi Dalhatu Umar in 2009, and the current Registrar Mall. Yabagi Alfa came into office in 2017.
The College offers several courses leading to the award of Nigeria Certificate in Education (NCE). Other courses run by the College are Professional Diploma in Education (PDE) and Undergraduate programmes in affiliation with Ahmadu Bello University, Zaria and Usmanu Danfodio University, Sokoto.
Renovation/Completion of Projects and New Projects Infrastructural Development Towards Enhancing Quality Basic Education Research findings have shown that there is [...]
Prof. Yakubu Assumes Duty, Tours Schools and Interacts with Staff Interactive Session with the Provost The members of the Senior [...]
Strategic Focus for Addressing the Strategic Issues Evolving a Service and Development Oriented, Team Bonded Governance Structure In order [...]