Prof. Yakubu Assumes Duty, Tours Schools and Interacts with Staff
Interactive Session with the Provost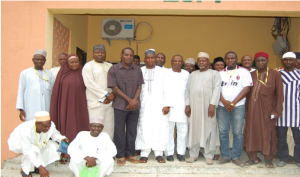 The members of the Senior Staff Union of the College of Education, Minna had an interactive session with the Provost on the 10th of October, 2018.
Issues ranging from staff promotion, lateness to work, TETFund, discipline, salary increment, appointment of academic secretary, unofficial release of official document/information, 7.5%, among many others, were addressed during the interactive session.
The Registrar stated that the essence of the interaction was for members to be well informed of issues concerning staff welfare and administration.
In his opening remark, the Provost stated that the interaction should have been a regular activity, but it was not possible due to his tight schedules. He warned members who are in the habit of asking for gratification before attending to their primary duties to be fore warned.
On the issue of promotion, the provost reiterated that 2018 promotion will be out by November, 2018 but members with queries or offences may not be promoted.
The Registrar asserted that punctuality allows free flow of work and urged members to punctually report to work and close at the official time.
On the issue of TETFund, the provost promised to set up a committee of members of SUCCEEN and NASU to be in the know of the projects that are on-going in the College. He added that the management will continue to maintain the 70/30% distribution of the intervention.
Concerning 7.5%, the Registrar told the members, that members employed in 1994 have started receiving their money except for those employers that are with AIICO pension who have problems with accessing their money but the issue is being looked into.
Members took turns to ask questions which the Provost and the Registrar were readily available to proffer answers and solutions to issues bothering the members.
The interactive session was indeed gratifying as members were well informed and promises were made where applicable to motivate them.