FULL TEXT OF PROFESSOR MUHAMMAD YAKUBU AUNA'S VISION AND MISSION FOR NIGER STATE COLLEGE OF EDUCATION, MINNA
Introduction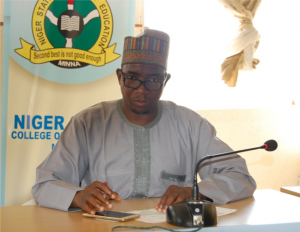 Colleges of Education in Nigeria are established primarily to award Nigeria Certificate in Education (NCE) and are responsible for the production of Teachers for the primary and junior secondary levels. The Nigeria Certificate in Education is the basic qualification for teaching in Nigeria. It is a sub-degree (certification course) which is obtained after 3 years (full time) at a college of education. The graduates of the programme are qualified to teach the first nine years of schooling (six years of primary and three years of junior secondary education). The NCE programme generally aims at producing teachers with high personal and professional discipline and integrity, teachers who are dedicated, with appropriate knowledge, skills and attitudes that would facilitate easy achievement of the national goals.
The Niger State College of Education, Minna was established by the defunct North Western State Government in 1975 as Advance Teachers' College, Minna in order to meet the rising teacher needs in the State. The school has had several Administrators starting from Late Dr. Umaru Sanda Ahmadu as its first Principal and Provost and to the current Provost, Prof. Faruk Rashid Haruna.
Under these successive administrations, the Niger State College of Education, Minna has witnessed unprecedented growth and development in both physical and human capital. It is worthy to mention that the College had more developmental strides at the inception of democratic rule in 1999. It is on this basis that I have indicated interest with utmost sincerity of purpose and full commitment to service to become the next Provost of this citadel of learning. This is essentially to continue with the good works of the earlier Administrators and to reposition the institution for the contemporary challenges of quality teacher education gaps and appropriate teacher production for Niger State Basic Education sub-sector.
I have put forward my Vision that I believe in the next four years would propel the Niger State College of Education to another level of development.