The Provost in Radio Niger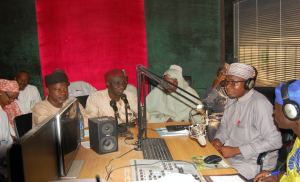 The Provost and his management team were hosted by the Radio Niger (Crystal FM) on 18th August, 2018.
The Provost used the opportunity to enlighten the general public on his vision for the College, which is for Niger State College of Education to be a centre of excellence for teacher education driven by all stakeholders. He also spoke on the journey so far since his assumption of office, such as the success of the just concluded accreditation exercise by NCCE, where 26 courses were accredited as well as regular Academic Board Meetings to release students result and strict adherence to the academic calendar like the examination timetable.
The Provost told the listening audience that all hands are on deck for the preparation for the 27th – 38th convocation ceremony by setting up a committee. The Provost was greeted and applauded by many phone calls where callers asked diverse questions. In response, the head of the management team in person of the provost, Prof. Muhammad Auna and other principal officers took turns and were at hand to shed light and also made clarifications on certain issues that were raised.